I'm not sure what about today was so exhausting, but it wasn't even 10 PM and I was seriously thinking about turning in until I remembered I need to at least post a little something for NaBloPoMo.
I had to be at my credit union bright and early to get a cashier's check, then headed to Edina for my 10 AM closing. I had no idea how the 35W/Crosstown thing was going to go, but it was fine, and I was there about a half hour early. Apparently there's a turkey who hangs out there. I had to wonder if turkeys were some sort of omen. Especially in November.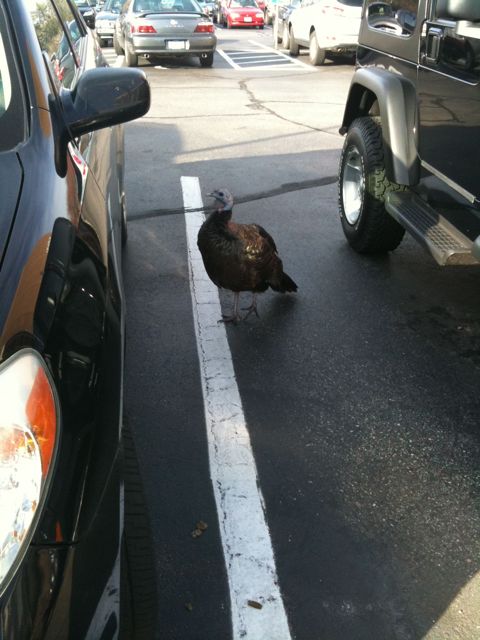 The closing itself went fine. The seller did her part earlier that morning, but her agent was there to finish the paperwork and give me keys and some info I'd need. Just like everyone warned me, there were approximately a zillion things to sign.
Mom took me to the nearby Cheesecake Factory for lunch, which was delicious as always.
Then we went home. Mom headed to work for a little while and I was planning to pack up a few things I want to take over to the condo this weekend, but since the seller wasn't scheduled to be moved out until tomorrow, I wasn't very inspired and realized I was really tired. So I took a nap with my cats, and got up when I had a call from the seller's agent that the seller had managed to get everything out today after all. Surprise! Right up until then this whole thing was still kind of an abstract idea, but after learning I could actually really take possession, it started to feel real. Finally.
There wasn't time to go over then, since my parents and I had dinner and errands, but we stopped by before heading back to their house. The first thing I'm going to need to figure out tomorrow is what happened with the entryway light, because the bulb and globe were on the floor, and the stairs are pretty dark without them where they belong. That concerned me a little about what the rest of the place was going to be like, but it was fine. There aren't ceiling lights in the living room or bedrooms (of course I knew this, but had forgotten what that would mean going over at night), so I'm going to have to take over some lamps soon.
Mom and I finally remembered to look to see what's under the carpet in the bathroom, and it's some sort of linoleum or tile, so for now I think we're just going to pull up the carpet and see if what's there will work at least until I can decide what I'm going to do for decorating in there.
Tomorrow Mom and I will start taking stuff over and spackling. I've never done any of this kind of stuff (yet, I've worked on putting shingles on a roof — go figure), but it's probably about time I learn. I have to see if I can decide on some paint colors so I can proceed with putting some samples on the wall so I can start painting yet this weekend.
I promise I'll take and start posting some photos!