Paper Pumpkin is Stampin' Up!®'s monthly subscription papercrafting kit that is delivered directly to you. Each kit includes all the materials you need to create the month's fabulous project. Learn more and subscribe by selecting the Paper Pumpkin image to the right to subscribe by the 10th of each month.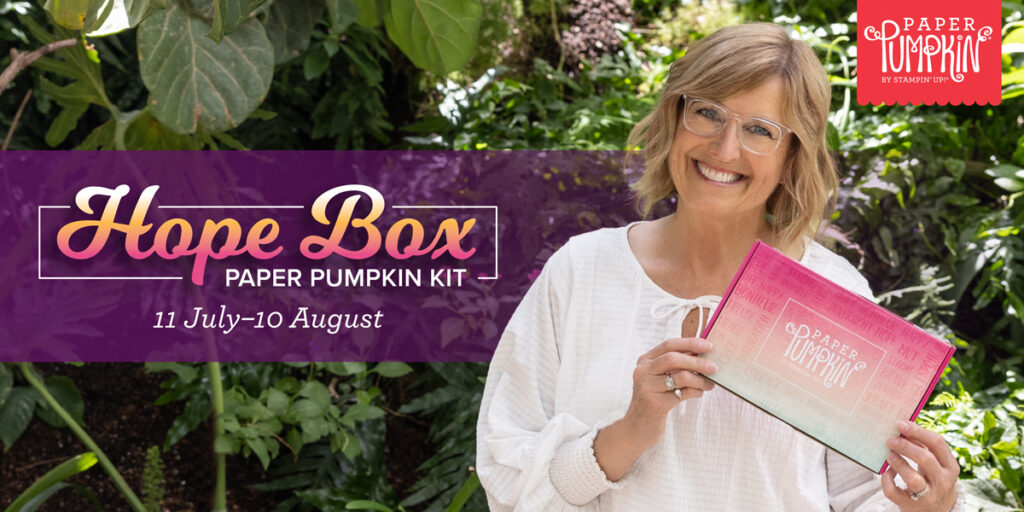 August 2021 – Hope Box
Empower yourself and others with the Hope Box Paper Pumpkin Kit! Created from the heart and soul of Stampin' Up! cofounder, Shelli, the Hope Box Paper Pumpkin Kit reminds us why life is precious. This month's Paper Pumpkin kit includes supplies to create nine encouraging cards and coordinating envelopes in an inspiring color palette, and a specially designed Hope Box!
You can find all the details below.
The Hope Box is designed to be a keepsake box—keep mementos of cherished memories or reminders of what's yet to come. Collect treats and trinkets that represent what hope means to you in your Hope Box and look inside for inspiration or share it with a friends who could use some uplifting!
What will you put in your Hope Box? Letters, song lyrics, inspiring quotes, and photographs are powerful reminders of hope and connection—and great additions to a Hope Box. For more inspiration on how to build your Hope Box, watch Shelli herself put one together in this video.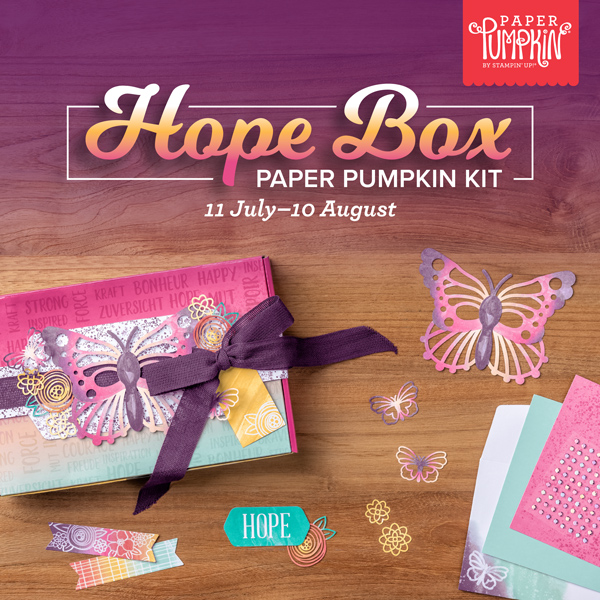 Details for the Hope Box Kit
Kit contains supplies to create nine cards and coordinating envelopes and comes in a special box!
The box is specially designed to turn into a Hope Box—a keepsake box full of cherished items to add hope to your life or in the lives of others. 
Includes an exclusive stamp set and a Classic Stampin' Spot
Card size: 4-1/4″ x 5-1/2″ (10.8 x 14 cm)
Envelope size: 4-1/2″ x 5-3/4″ (11.4 x 14.6 cm)
Coordinating colors: Bermuda Bay, Blackberry Bliss, Bumblebee, Melon Mambo, Petal Pink, Pool Party, Poppy Parade
How to Subscribe
There are two ways to subscribe to Paper Pumpkin. With either option, you will set up a Paper Pumpkin account where you manage your subscription, including the option to skip if you're aren't keen about particular kit.
Use the Hope Box image to the right or select this link to start a month-to-month subscription by August 10 to receive this as your first kit. With this option you are billed $22 (including shipping) plus sales tax, if applicable in your location) soon after the 10th of each month.
Purchase a prepaid subscription through my online store, either separately or as part of an order of other Stampin' Up! products. The cost for each option is listed below, and is before both shipping and sales tax. 3-, 6-, and 12-Month Prepaid subscriptions are eligible for the loyalty program I'm launching beginning with orders placed on or after June 1, 2021. The 1-Month can be included in a larger order to reach the $50 minimum (before shipping and sales tax) to qualify for a loyalty point.
| | |
| --- | --- |
| 1-Month | $21 |
| 3-Month | $63 |
| 6-Month | $114 |
| 12-Month | $220 |
Learn More About Paper Pumpkin