Sale-A-Bration (SAB) starts on January 5! This has always been my favorite time of the Stampin' Up!® year, both as a customer and as a demonstrator, because you can earn free items just by purchasing the awesome products you already want. Sale-A-Bration will go through February 28, 2021, and products are available while supplies last.
Free items are just one of the benefits during SAB, so I'm going to break down the three benefits here. Please note that amounts discussed here are in US dollars, before shipping & handling and any applicable sales tax.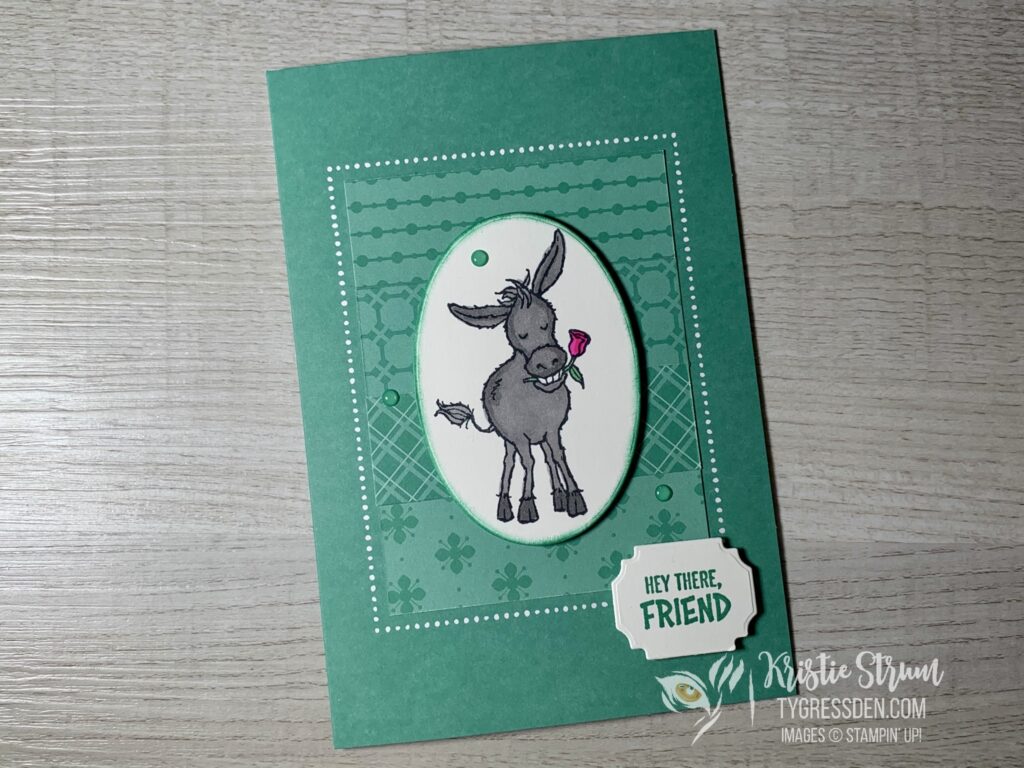 But first, the Darling Donkeys stamp set is one of several you can earn with a $50 purchase! I used the Flowers For Every Season Memories & More Cards & Envelopes to make a card in each of the five 2020-2022 In Colors. I'll talk about the Designer Series Paper a little later.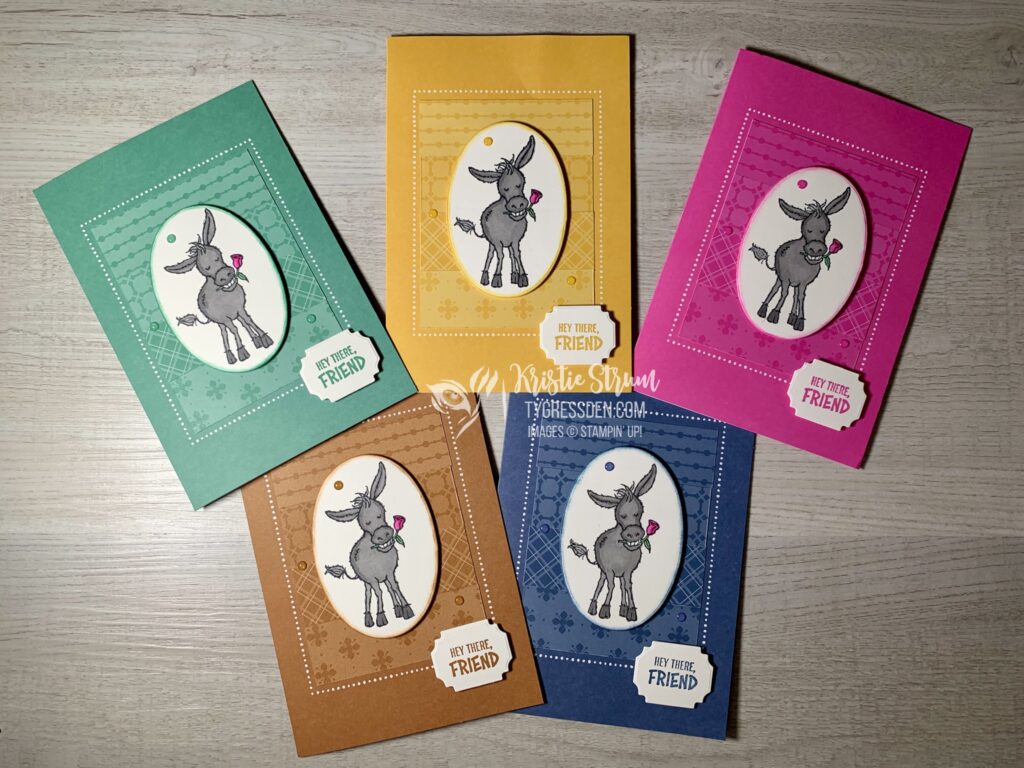 Earn Free Products with Purchase
This is probably what Sale-A-Bration is most known for: you can choose a free SAB product with each $50 or $100 purchase.
Select this image to view the Sale-A-Bration brochure:

Going forward, whenever I share a project here on the blog made with items you can earn during SAB, I'll provide information about how you can earn it ($50 or $100) and ideas you might want to consider for your order.
The Darling Donkey stamp set can be earned with a $50 order. If you wanted to make the same cards (a total of 10, 2 each in the five colors), you would order the following for a total of $55.50 and earn the stamp set for free:
Flowers for Every Season Memories & More Cards & Envelopes – $11.00
2020-2022 In Color 6″ x 6″ Designer Series Paper (I actually used new paper I'll tell you about below, but it would work perfectly with the current paper) – $11.50
2020-2022 In Color Enamel Dots – $6.00
Stampin' Blends (I used Smoky Slate, Just Jade, and Magenta Madness) – each pack is $9, so $27 for three packs
Extras if not yet in your crafting supplies (most of these could be substituted with supplies you already have or made without the dies, though purchasing would help you earn more free items!):

2020-2022 In Color Classic Stampin' Pads – $33.75 (save 10% as a bundle)
Layering Ovals Dies – $35.00
Ornate Frames Dies – $34.00
Tuxedo Black Memento Ink Pad – $6.00
Stamin' SEAL – $8.00
Stampin' Dimensionals – $4.00
Sponge Daubers – $5.00
Earn an Exclusive Free Host Set by Hosting a Party or by Ordering $300 or more
Hosts (or for any order of $150 or more) always earn Stampin' Rewards, beginning at 10%. There are exclusive host stamp sets you can choose to purchase with those rewards, along with any other products currently available.
During Sale-A-Bration, however, you get all that plus a free exclusive stamp set called Punch Party when your order or party totals $300 or more. This stamp set coordinates with a new punch in the January – June 2021 Mini Catalog, the Double Oval Punch, plus the Heart Punch Pack and Rectangular Postage Stamp Punch in the current annual catalog.
I'd love to have an online party for you and your friends on Facebook, just contact me at tygressden at gmail dot com.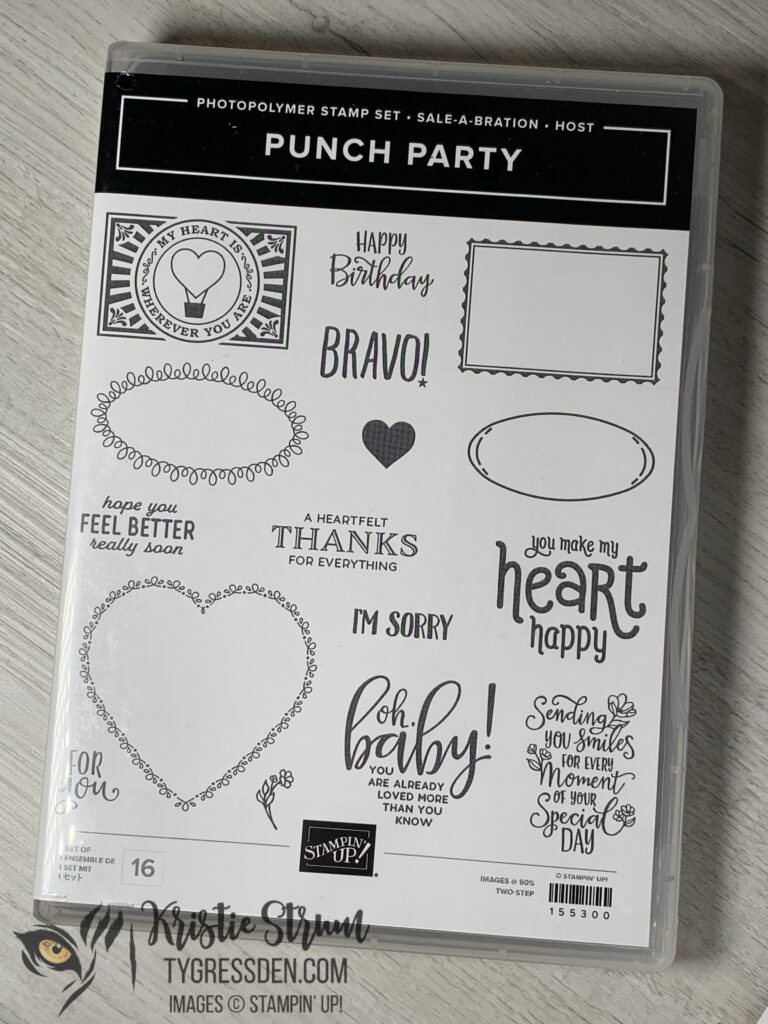 Receive Five Packs of Designer Series Paper by Joining the Stampin' Up!® Family
Stampin' Up!®'s starter kit is always a great deal: you choose $125 of the products you want for $99, with no obligation. During this Sale-A-Bration, you will also receive five (yes, 5!) packs of Designer Series Paper (DSP) along with your starter kit. And this DSP isn't just any DSP, it's DSP that won't be available to order until the next annual catalog is released on May 4, 2021.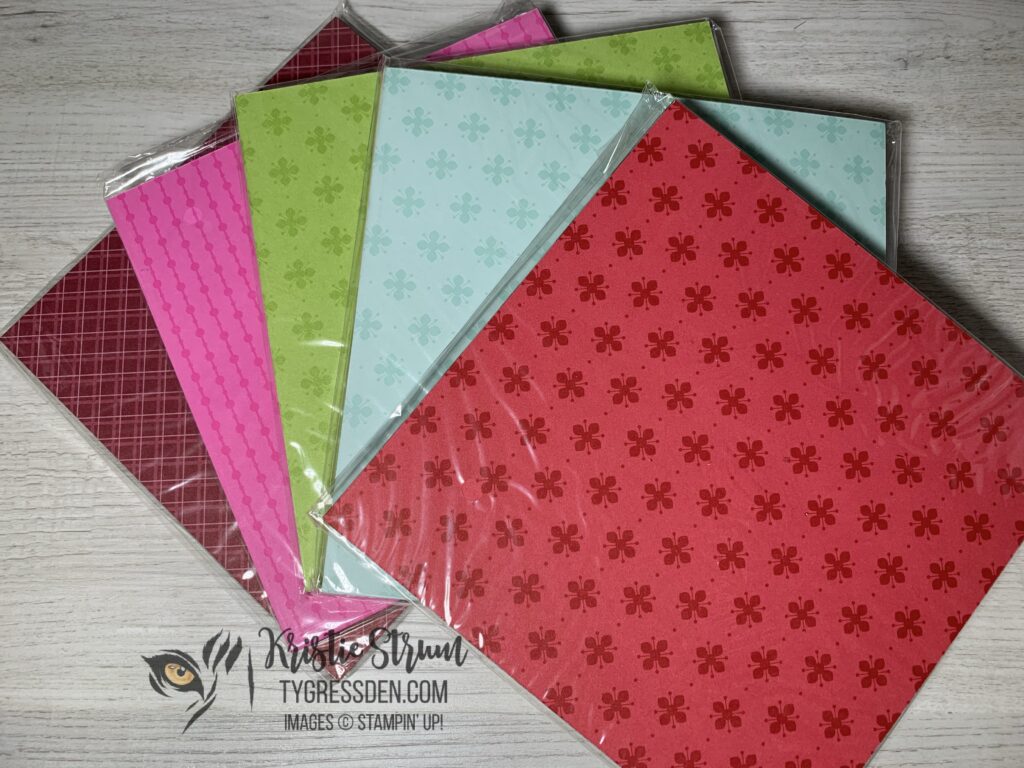 These are similar to the current 6″ x 6″ color family DSP packs that are $11.50 each, but with new patterns. These are great for monochromatic designs or mixing and matching the color combination of your choice. You'll receive one 40-sheet pack each in Brights, Regals, Subtles, Neutrals, and the 2020-2022 In Colors.
I would love for you to join my team, which is part of an awesome community of demonstrators. Just like the starter kit, you can choose what being a demonstrator means to you.
Just want the 20% discount? Great! That's why I initially joined too, and why most people do, and there are other fun benefits you'd also get, such as the opportunity to preorder new products and participate in events.
Thinking about the business opportunity? Great! There are so many ways to go with this, and I'd love to support you in that.