Thank you for joining us for our Stampin' Up!® Demonstrator Training Program Monthly Team Blog Hop!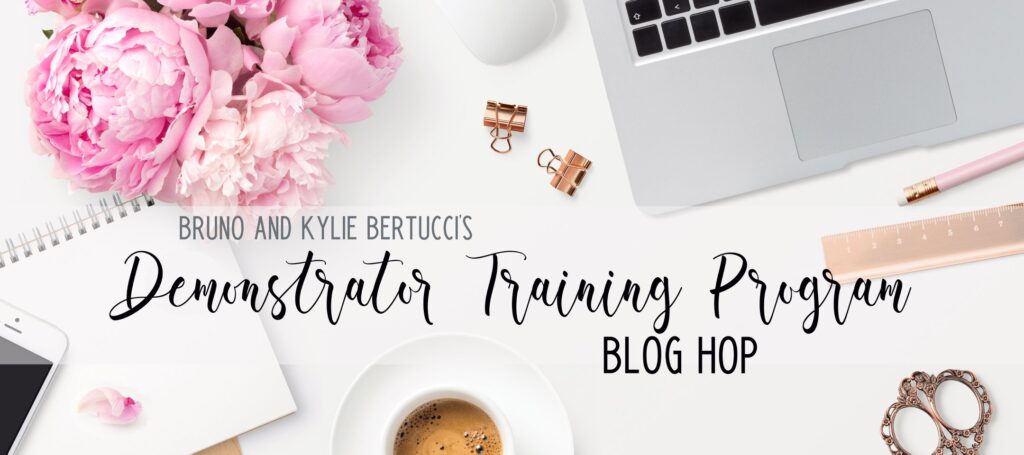 We are so happy that you could join us today for this blog hop for ideas and creative inspiration. We are a group of Stampin' Up!® demonstrators from around the world who are taking part in training that is helping us to build a successful Stampin' Up!® business and reach some goals we have set. We really appreciate your support. For this Stampin' Up!® year, our blog hop is focused on creating thank you cards for our awesome customers.
You may be starting here or have come from another blog. Either way, you can find the link list at the bottom of this post so that you can see every blog post and idea today.
I'm sharing a set of cards with you today that give you a sneak peek of two items you can earn during Sale-a-Bration in January and February!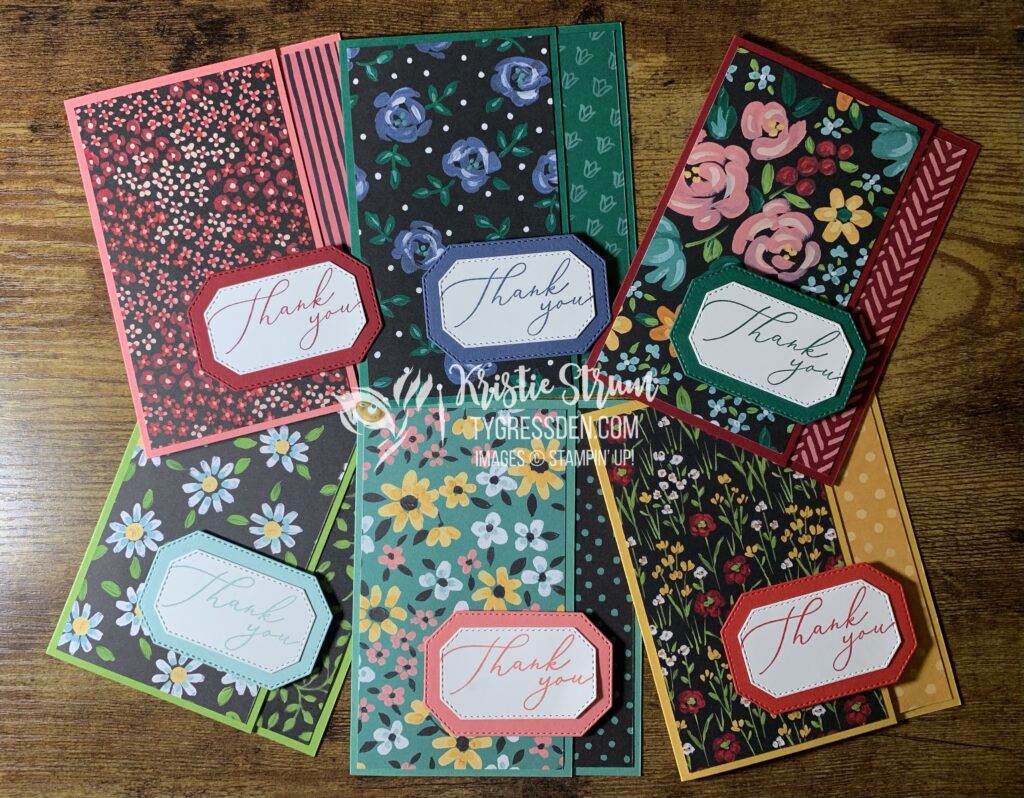 These cards feature the Heal Your Heart stamp set and Flower and Field Designer Series Paper (DSP).
Initially I made just the card with the Bumblebee (yellow) card base. When I took the above photo of the DSP, however, I realized that all of the reverse sides coordinated so well with their bolder flowery sides that I needed to make the other five as well.
The card base for these is just one inch shy of a standard 8.5″ x 5.5″ card base — 7.5″ by 5.5″, then scored as usual at 4.25″ (or 3.25″ from the other side). The DSP is 5.25″ x 4″, then you cut a 5.25″ x 1″ strip from that piece, flip it over, and attach it to the right side of the inside. For darker cardstocks, you'll want to also add a white or lighter color 5.25″ x 3″ piece for a sentiment and/or your note to the inside.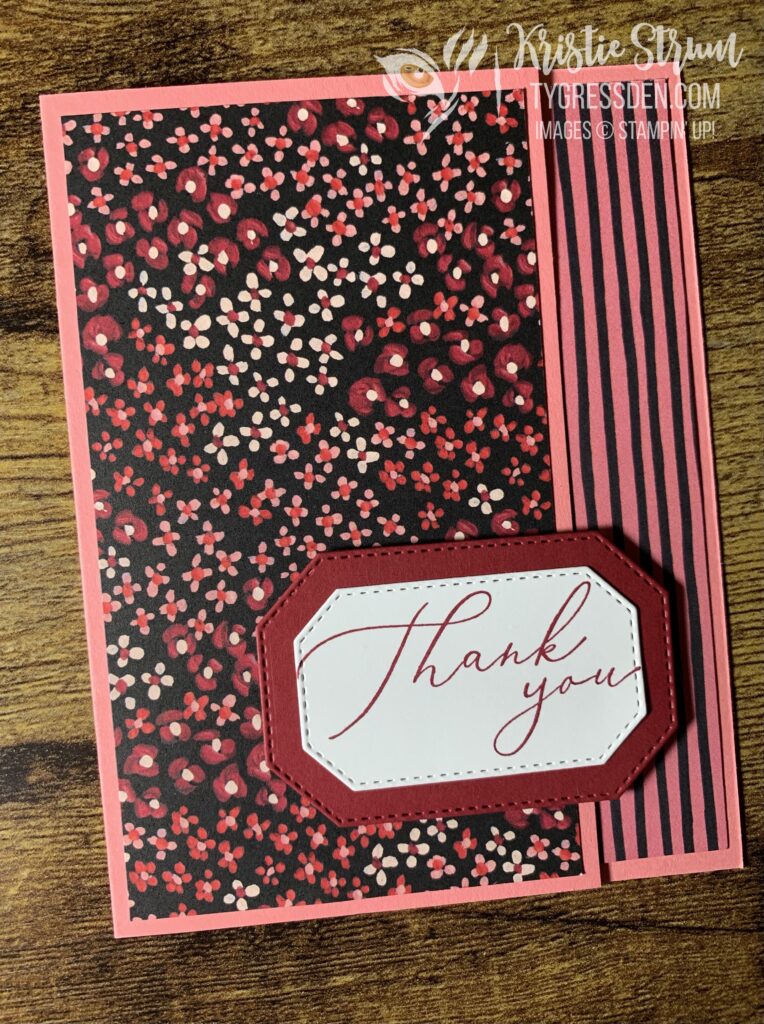 Cardstock: Flirty Flamingo and Cherry Cobbler
Ink: Cherry Cobbler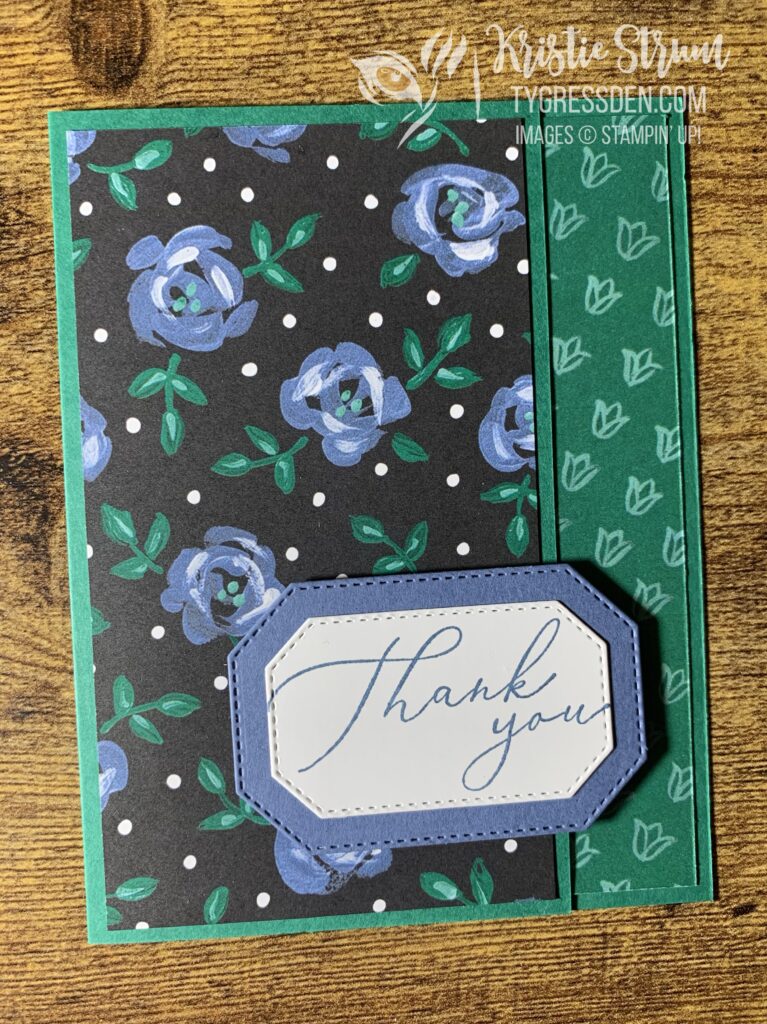 Cardstock: Shaded Spruce and Misty Moonlight
Ink: Misty Moonlight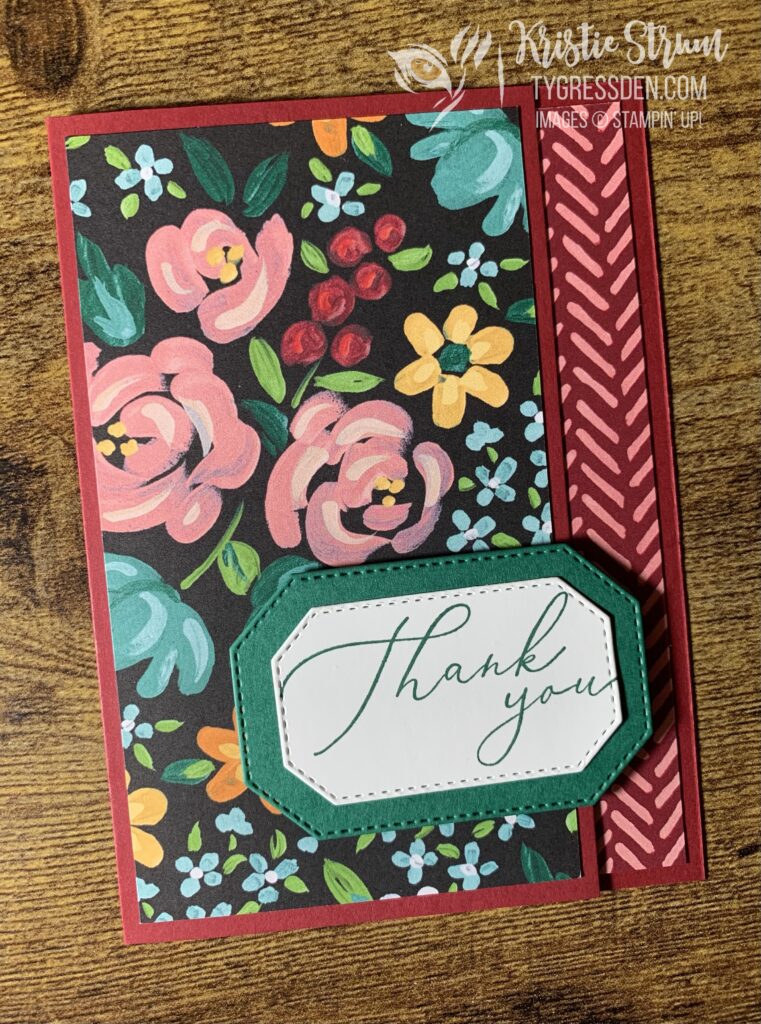 Cardstock: Cherry Cobbler and Shaded Spruce
Ink: Shaded Spruce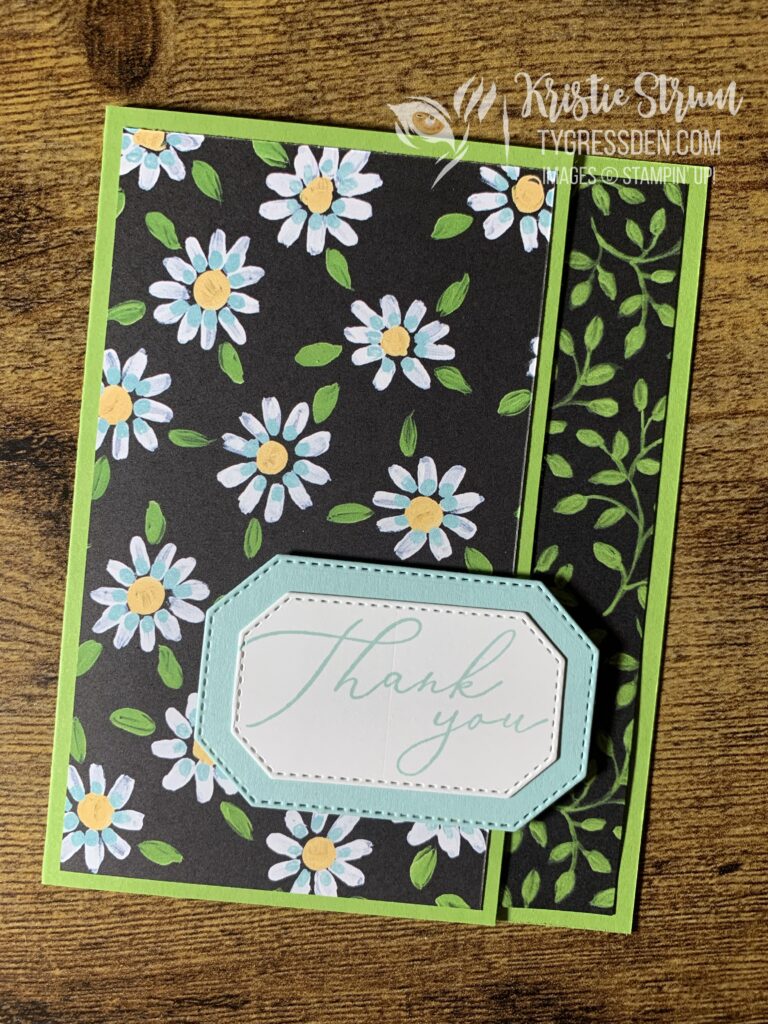 Cardstock: Granny Apple Green and Pool Party
Ink: Pool Party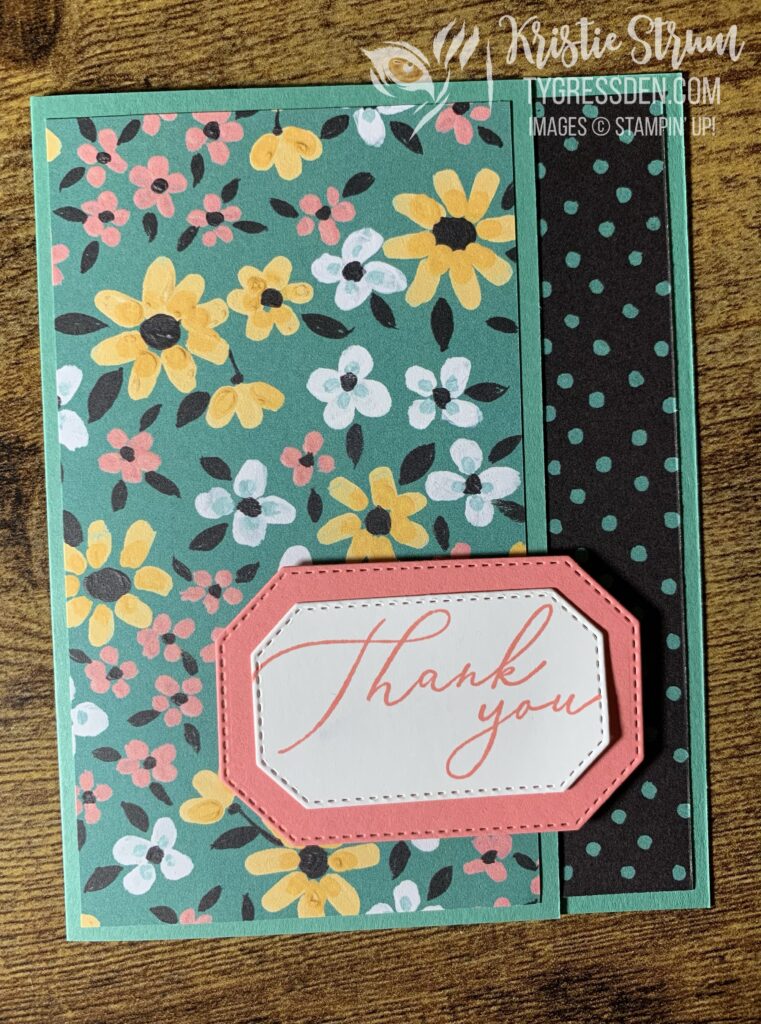 Cardstock: Just Jade and Flirty Flamingo
Ink: Flirty Flamingo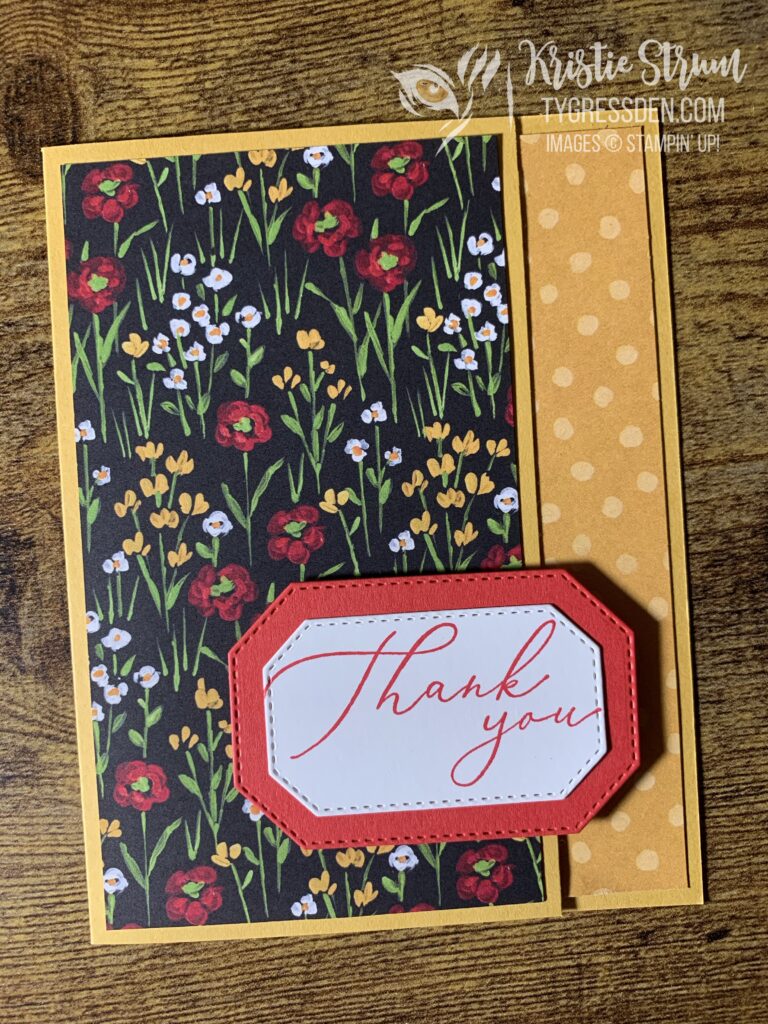 Cardstock: Bumblebee and Poppy Parade
Ink: Poppy Parade
Thank you so much for coming by today! We have an amazing lineup of Stampin' Up!® demonstrators from around the world who are working hard to learn how to be even more successful. We know you are going to love all the amazing projects that you are going to see today. Make sure you show them some love so they keep creating and sharing fantastic ideas for us all.
Don't miss one blog link. Remember you are currently on my page – Kristie Strum at The Tygress Den. See who is below me to know where to go next.